Product Description
BTR Brian Tooley RED HOT LS3 Camshaft
Specs: 221/24x .619"/.617" 113LSA
3 Bolt Pattern
BTR is proud to introduce it's newest camshaft offering for LS3 and Rectangle Port LS engines. Affectionately dubbed The Red Hot Cam, they have put this camshaft in a wide variety of LS3 engine combos, and it was spicy enough to make excellent power in both boosted and N/A applications!

Things really heated up once it was installed and running on the engine dyno. It showed excellent power gains over the existing Stage 2 PDS and LS3 Centrifugal cam profiles even with less intake duration. Using BTR lobes designed in house, this cam had just the right amount of kick that combined both great stability and durability during Spintron testing. Scoring a 1.5m SHU (Think Carolina Reaper and Pepper Spray) on the Scoville Scale, this cam is sure to add some heat to your LS3 build!
VVT engines will require a VVT delete kit

If installing in an engine originally equipped with a 1-bolt camshaft, a 3 bolt conversion kit will be required.
Our kit options take the guesswork out and include:
Camshaft only: BTR Red Hot camshaft by itself
Steel Retainer Spring Kit with Pushrods: BTR Red Hot cam plus BTR Platinum .660" Dual Spring kit with Steel Retainers, Valve Seals, and 7.400" Chromoly Pushrods, 5/16" x .080" wall
Titanium Retainer Spring Kit with Pushrods: Includes the above, but with an upgrade from Steel to Titanium Retainers
Gasket kit: Includes Timing cover gasket, water pump gaskets, front crankshaft seal and new damper bolt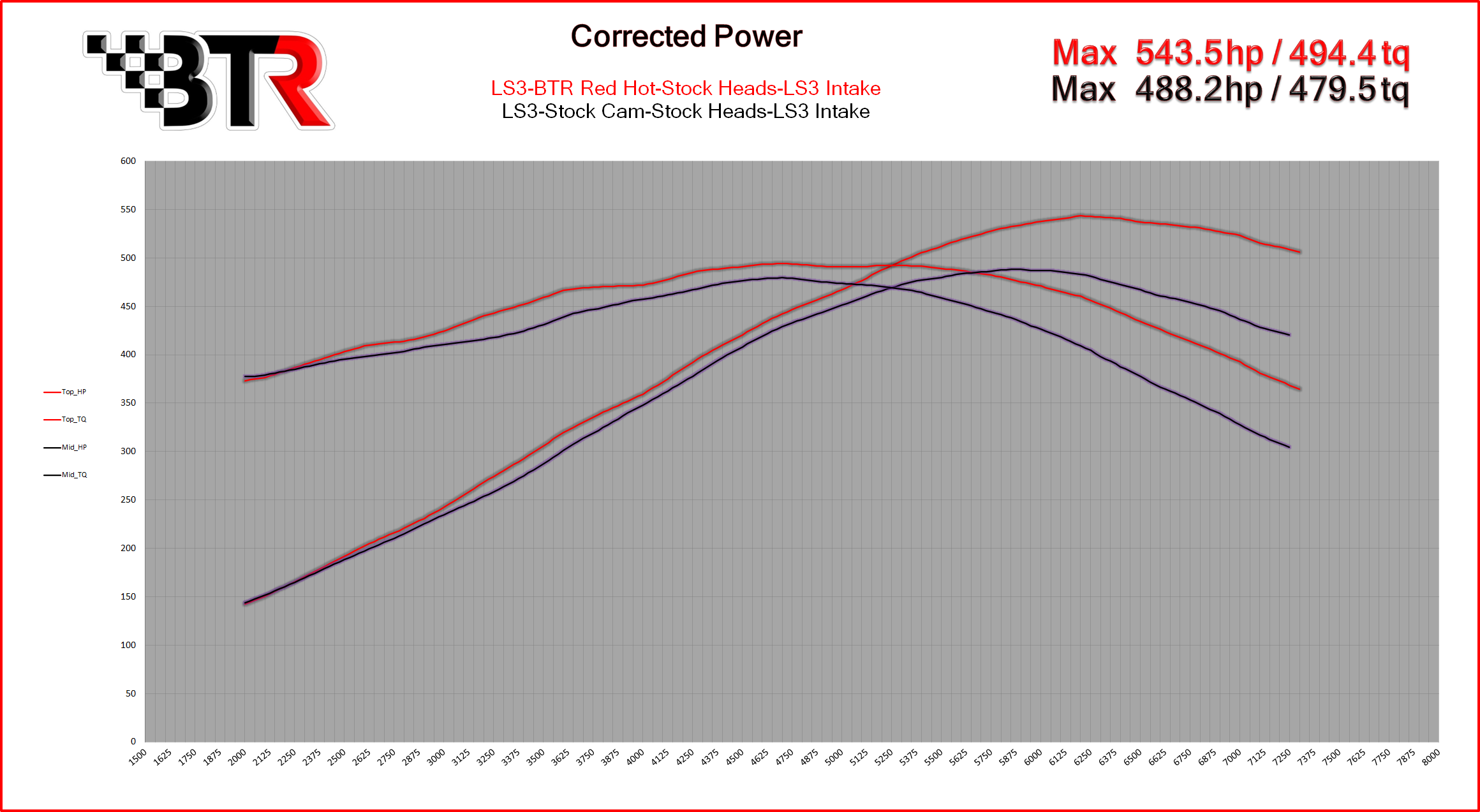 The dyno sheet below was with a LS3 short block, GMPP ported LS3 heads, BTR Trinity intake manifold, Procharger F1A supercharger. 24.5psi boost @ 7300rpm, E85 fuel. Tested in house on BTR's Superflow dyno.
Product Videos
Custom Field
Product Reviews